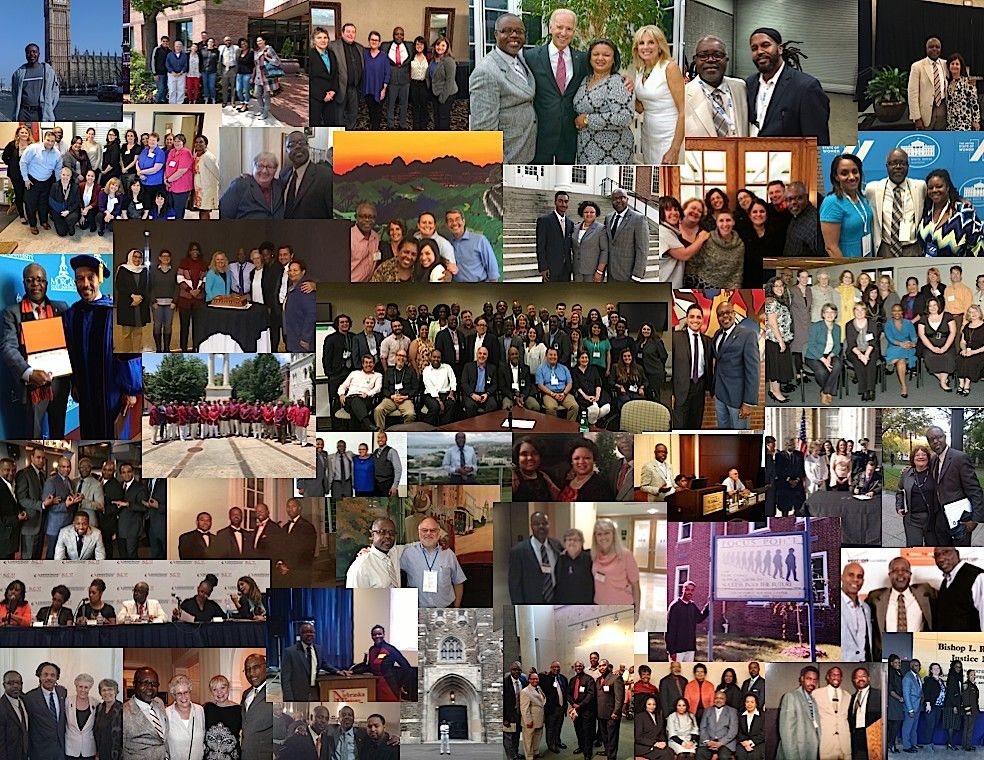 About Dr. Rice
Johnny Rice II, M.S., Dr.PH., serves as Founder and Principal Consultant for Social Justice Ventures LLC a boutique public health consulting firm.  He also serves as Chair and Associate Professor of Criminal Justice at Coppin State University, a Historically Black College and University (HBCU) in Baltimore, Maryland. His research interests are Epidemiological Criminology, Public Health, Race and Culture, Youth Delinquency, Victimology, Family Studies (Fatherhood and Child Welfare), Urban Sociology, and Qualitative Social Research.
Prior to entering academia, he worked as a senior program associate with the Supervised Visitation Initiative (SVI) at the Vera Institute of Justice. He has spent the past 23 years providing leadership, technical assistance, and support to organizations that serve low-income fathers and families in the areas of child welfare, youth development, and criminal justice in efforts to create safe and stable communities.
Before joining Vera, he worked as a public administrator for the Maryland Department of Human Resources (DHR). At DHR, he served as the state administrator for the Victims of Crime Act (VOCA) Program, the Family Violence Prevention and Services Act (FVPSA) Domestic Violence Program, and the Rape Crisis and Sexual Assault Program, and federal and state-funded Responsible Fatherhood Programs. In the capacity mentioned earlier, he served on the Governor's Family Violence Council and the Maryland State Board of Victims Services. In his government grants management role, he was charged with oversight and administration of a $25 million dollar annual budget that was also inclusive of Emergency Food and Homeless Services program funds.
Previously Dr. Rice held the position of Chief Operating Officer and Director of the nationally recognized Men's Services Responsible Fatherhood Program at the Center for Urban Families in Baltimore. At CFUF, he assisted in developing a partnership with the House of Ruth Maryland Gateway Project, cited by Health and Human Services as one of the first collaborations in the nation between a responsible fatherhood service provider and a domestic violence abuser intervention program. Dr. Rice has been a consultant, speaker, workshop presenter, and faculty member for the Office of Violence Against Women (OVW), Futures Without Violence, Office of Family Assistance (OFA), and other recognized governmental, social justice and fatherhood organizations. In 2003, Dr. Rice served on the OVW Supervised Visitation Program National Steering Committee and contributed to the development of the Guiding Principles. He formerly served on the Constituent Advisory Council for the National Domestic Violence Hotline and as Board President for the National Resource Center on Domestic Violence (NRCDV).
Dr. Rice has a BS and MS degree in criminal justice from the University of Baltimore with a specialization in corrections. He also holds a Doctor of Public Health Degree from Morgan State University's School of Community Health and Policy where his study emphasis was violence prevention and intervention. In the past, he has served as an adjunct faculty member at the University of Baltimore's School of Criminal Justice, and adjunct faculty for Penn State's World University Online. In 2004 he established his consultancy Social Justice Ventures LLC, a public health consulting firm, as a means to support the development of safe and healthy homes, schools, workplaces, and communities. Dr. Rice is a member of Kappa Alpha Psi Fraternity, Baltimore Alumni Chapter "The Benchmark". He resides in Maryland and is a proud husband and father.
Additional Background (Early Career):
Dr. Rice's past employment experience covers a significant cross-section of diverse areas. While employed as a foster care worker for the Baltimore City Department of Social Services Mr. Rice was given the task of the reunification of families. He would often assist in devising treatment plans for parents in an effort to strengthen the fragile family unit. As an Addictions Counselor within the Maryland correctional system, Dr. Rice worked with incarcerated inmates teaching classes in Moral Problem Solving and Relapse Prevention. Working in corrections exposed Dr. Rice to low-income noncustodial fathers who were in need of a comprehensive array of support services (i.e. ongoing substance abuse treatment, domestic violence counseling, child support issues, and access and visitation concerns). He actively pursued resources to meet fathers' needs. Before entering Human Services, Dr. Rice was employed in various capacities in the field of safety and security in the private sector.

Values and Beliefs